Top 3 Air Purifiers for Asthma: The Cure to Relieve Asthma and Allergy
On average, 11 people in the US die from asthma every day.
Asthma affected 262,000,000 people in 2019 and caused 455,000 deaths.
If you are suffering from asthma and allergy, you would be wonder what you can do to make your everyday life smoother and symptom-free & allergen-free.
There is no wonder drug for asthma, but it is possible to relieve your symptoms. One way is to reduce the exposure to allergens and irritants that can trigger your symptoms.
Air purifiers for asthma come in hand when it comes to reducing exposure to environmental triggers, as they are able to remove all allergens in the air.
Hence, we offer top 3 air purifiers for your choice as well as other important points you may be interested in.
Enjoy the Asthma-Friendly Journey:
#1. Do Air Purifiers Help with Asthma
#2. Air Purifier vs Dehumidifier for Asthma
#3. Top 3 Air Purifiers for Asthma
Best Portable: 201B
Best Design: V1
Best Premium: V3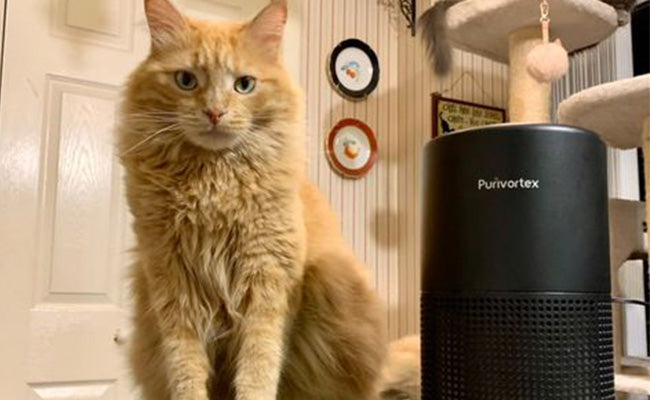 #1. Is Air Purifier Good for Asthma
Can air purifiers help with asthma?
Can air purifiers make asthma worse?
Do air purifiers help breathing?
Does air purifier work for asthma?
Air purifiers are good for asthma and help you relieve from asthma and allergy symptoms, while improving your breathing.
Hence, air purifiers for allergy and asthma are really helpful as they are able to clear allergens and environmental triggers.
Common environmental asthma and allergy triggers inside your house typically include:
Pet hair
Pet dander
Bird feather
Dust mites
Smoke
Mold
Pollen
Air purifiers with HEPA filters are able to remove these particles and allergens with the high-quality true HEPA filter.
Hence, air purifiers do help with asthma since they are capable of eliminating these airborne particles and triggers, providing fresh and clean air for better breath.
#2. Air Purifier vs Dehumidifier for Asthma and Allergy
Is a dehumidifier or humidifier good for someone that has asthma and lives in Florida? Air purifier or dehumidifier for asthma, which one to choose?
It depends on your needs. If you are an asthma or allergy sufferer, an air filter is usually the best choice, while dehumidifier is often used for concerns over mold, mildew and dust mites.
Since mold and dust mites are also triggers of asthma, a dehumidifier would help with your asthma symptoms.
Air purifiers work by pulling air in, trapping and filtering particles like dust, pollen, pet dander, smoke in the filters and pushing clean air out for you to breathe.
Dehumidifiers only remove moisture from the air, preventing the growth of mold and mildew, instead of removing airborne particles.
Dehumidifiers work by pulling warm air in, which cools and contracts after contracting with refrigerated coils. The condensation falls down to a tank and then the drier, cooler air is released.
These 2 types of devices work in different ways and remove different objects.
Air purifiers are undoubtedly the best option if you are an asthma sufferer.
#3. Top 3 Best Air Purifiers for Asthma and Allergies
What's the best room air purifier for asthma?
Since air cleaners do help relieve asthma, we have included the below top 3 recommendations so that you can get the most suitable one within seconds.
1. Best Portable Air Purifier for Asthmatics: Purivortex 201B
This small air purifier features in its 3-layer filtration system – the pre-filter, the H13 true HEPA filter and the activated carbon filter.
The pre-filter is able to block those large particles and debris while HEPA filter removes those ultrafine particles, such as dust mites, pollen, pet dander and other asthma triggers. The last activated carbon filter adsorbs odors and smells, so that you can breathe fresh, allergen-free and odor-free air.
It is currently the most portable and powerful air purifier for small room. You may place it on your bedroom, home office, kitchen and other small spaces for all-around clean air.
Sandra Marie, who purchased this 201B air filter says:
"201B is a game change. It is really helpful for my asthma and cat allergies."
If you want the best-budget and small air purifier for cat & dog asthma and allergies, 201B will relieve your bronchial asthma.
Watch the video below to see all features of this best air filter for asthma suffers and allergies.
2. Best Design HEPA Air Purifier for Asthma: Purivortex V1
This HEPA air purifier truly helps with asthma and COPD patients with its H13 HEPA filter.
The advanced HEPA filter removes pet dander, dust mites, pollen, debris, smoke particles, fumes and other asthma irritants and allergens.
This portable air purifier is ideal for covering small and medium rooms, including nurseries, dens, kitchens, bedrooms, living rooms or large home offices, etc.
The round and cute design makes this apartment air purifier not just an air filtration device, but also a modish and stylish décor for your home, office or apartment.
Rocky who has been using V1 air cleaner for over 1 month, shared his feedback:
"V1 is a very economical and well worth the price air filter. The air filter keeps the air in my room nice and clean and also really helps me with my allergies."
Watch the video to see how this true HEPA air purifier for asthma and allergies performs.
3. Best Premium Home Air Purifier for Asthma and Allergy Relief: Purivortex V3
This room air purifier truly combats asthma and allergy with the 4-layer filtration system.
This large room air purifier removes both large and small particles – dust mites, pollen, pet dander and bird feather with the washable fabric pre-filter and H13 true HEPA filter, and adsorbs smells and odors with activated carbon filter and the cold catalyst filter.
Put the home air purifier in your large living rooms, master bedrooms, family rooms, playrooms, basements and other large areas for cleaning the air. It can clean a room with 1,076 ft2 in just 30 minutes.
This top air purifier for feline asthma can detect the amount of dust in the air with the built-in sensitive sensor, and report the real-time air quality with the color of the LED on the control panel.
If you set this air filter into the auto mode, it will automatically adjust the fan speed based on the current air quality.
V3 is currently one of the smartest and most effective room air purifiers for asthma, pets, child with asthma or allergy and mold in large spaces.
Leslie posted his experience after using V3, saying:
"V3 has done an amazing job and I love how the external filter is washable!!! I also enjoy the auto setting. My allergies have calmed down a lot since purchasing this product."
Take a look at the video to see this top-rated air cleaner.