Best Air Purifiers for Pet Hair, Dander, Allergies and Odors
According to APPA National Pet Owners Survey, 70% of USD household own a pet – that means 90.5 million homes have a pet.
Pets are your friends and family members.
However, beyond the joy and happiness from your cutie friends, the smells, odors, hair, dander can cause allergic reactions or unpleasant living.
Air purifiers can reduce or even eliminate these side effects of pet ownership, providing clean air.
Read this article for top picks of pet air purifiers, as well as placement and everything you care about.
Content:
#2. How to Place Pet Air Cleaners
#3. Who Needs a Pet Air Purifier
#4. Frequently Asked Questions
#1. Top 3 Air Purifiers for Pet Owners
The below HEPA air purifiers are able to remove pet hair, odor, smell, dander and actually help with pet allergies.
The below top 3 air purifiers are suitable for all pets, like cat, dog, bird, horse, freshwater fish, saltwater fish, reptile, small animals, guinea pig, rabbit, ferret, hedgehog, sugar glider, gerbil, teacup pig, canary, pug, parrot, rats, etc.
1. Best Budget Air Purifier for Pet Hair, Dander & Odor: Purivortex 201B
The small room air purifier is designed to remove all airborne particles, hair, pet fur, and odors with the 3-in-1 true HEPA air filter.
The pre filter of this air cleaner removes large particles, such as dust, pet hair, pollen. The second layer filtration – true HEPA filter – captures all ultra-minor particles (as small as 0.3 micrometer), like pet dander and other even invisible particles. The third layer – the activated-carbon filter – is able to absorb all smells or odors from your pets.
Hence, this compact pet air purifier is one of the most functional and powerful air cleaners in the market.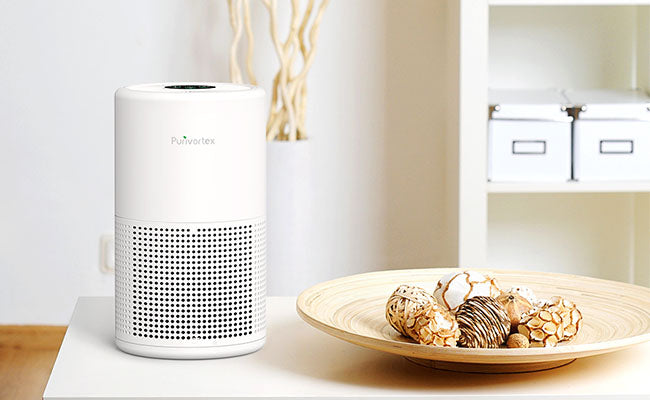 2. Best Stylish Air Purifier for Smoke and Pets: Purivortex V1
Purivortex V1 is one of the most sleek and stylish air purifiers for pet owners. It is able to remove pet fur/hair, pet dander, dust mites, smoke, mold, germs.
With the powerful H13 true HEPA filter, this air purifier can be placed in your living room, pet room, pet store, large room, or small room, to remove pet hair and dander.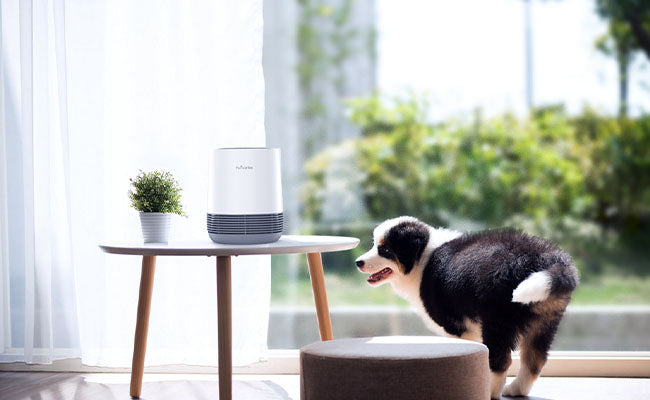 3. Best Smart Air Purifier for Large Pet Room: Purivortex V3
If you have large pet room, you'll need the V3 for pet hair or dander. This powerful air filter will refresh up to 430 ft2 .
With the 4-layer HEPA filtration - the washable fabric pre-filter, the HEPA fitler, the activated carbon filter and the cold catalyst, V3 air cleaner traps just every pet hair or pet dande, and adsorbs cat/dog urine smell & odor.
Never be bothered by unpleasant pet hair or pet smell with this large room air purifier.
#2. How to Place Pet Air Cleaners
You can make the most out of your pet air purifiers when placing it smartly.
1. Put Pet Air Purifier Close to Your Pets
If you have a pet home, or you own a pet store or pet groomer store, put air purifiers in the center of your rooms or apartment, or place them in the positions where air purifiers hang out frequently.
If you want an air purifier for pet dander, pet fur or hair, pet odor, put it close to your pets.
2. Don't Block the Outward Air Flow
Regardless pet dander or pet hair, these materials and particles are absorbed by the air purifier through the outward air flow (those small holes in the air purifiers).
Hence, don't obstruct those small holes, which would impact the air purification efficiency.
Make sure there no obstacles around the air purifier. Leave enough space (like 20 cm) between the air cleaner and the wall, so that all particles and hair can be trapped by the device.
3. Keep Your Pet Air Purifier on 24/7
You may ask "Should I leave the air purifier on all the time?". Generally speaking, air purifiers are designed to be turned on continuously, so that you can breathe clean air 24/7.
When you put an air purifier for your pet, turn it on 24/7 so that you will not be bothered by pet smell, odor, dander, or fur.
4. Close Windows & Doors for Best Air Purification Efficiency
Should I close the windows when I turn my air purifier on?
YES! It is advised to close your windows and doors so that the air purifier can maximize its air cleaning efficiency.
When the windows and doors are closed, the air purifier only need to purify the current pollutants and particles.
If you keep your windows and doors open, the dusted air keeps flowing into your room, which may impact the air purification efficiency.
#3. Who Needs a Pet Air Purifier
Air purifiers are powerful when it comes to remove all airborne particles and odors.
If you suffer from pet allergies, such as dog, cat, or bird, you should invest in the best air purifiers to ease your allergic symptoms
Air purifiers for pet are MUST-HAVES if you are:
Pet allergy sufferers

Unable to stand pet hair, fur, feather

Unable to bear with pet odors or smells

Pet store or groomer owners
#4. Frequently Asked Questions on Air Purifiers for Pet
Pet air purifiers are able to deodorize the air and clean dust for truly purified and fresh air.
Hence, air cleaners are effective to meet your clean air needs as well as easing your allergy and asthma.
You may have a lot of questions to ask before purchasing a room air purifier for pets. Thus, we have made a FAQ list below, in order to answer just every possible question you may have.
1. Does an air purifier help with pet cat or dog hair & dander?
Does an air purifier remove pet hair? Do air purifiers help with dust and pet hair? will air purifier help with cat hair? Does an air purifier lessen dust and pet hair?
Are air purifiers good for pet hair? Do air purifiers trap pet hair? How effective are air purifiers against pet hair?
Is there an air filter-like device that I can buy that will prevent dust and pet hair accumulation on wood flooring?
A: Yes, air purifiers do help with dog hair. An air purifier has small holes around its body and absorb the floating hair or fur as well as other airborne particles into the holes, with the built-in motor.
2. Do air purifiers actually help with pet dog/cat allergies?
Will an air purifier help with dog allergies? Will an air purifier help get rid of the germs that my pet spreads?
A: Yes, definitely. If you own a pet dog or cat, there will be pet hair and dander at your home or apartment.
Pet hair and dander would be one of the main allergens in our daily life. By putting air purifiers at your home, such as your living room, bedroom, kitchen, nursery, apartment, pet hair, fur and dander will be removed by these air purifiers.
Hence, the allergens will be reduced greatly, which will ease your dog or cat allergies. You can partner with your furry friends without worrying about allergy.
3. Do air purifiers really help with bad dog smells?
Has anyone found an air purifier that takes odors and dust out of the air? Will an air purifier help with cat litter smell?
Will an air purifier remove cat odor? Will air purifiers negate litterbox smell in apartment? Will an air purifier get rid of cat urine smell?
Which is more effective for eliminating cat litter box odor, a HEPA filter or an ozone generator?
A: Air purifiers with activated carbon filter are able to remove dog, cat and other pet odors, urine smell, since the activated carbon filter can neutralize the smell and provide fresh air.
HEPA filter (with the activated carbon filter) is much more effective for eliminating cat litter box odor, smells compared with an ozone generator.
Meanwhile, air purifiers with HEPA and activated carbon filter are eco-friendly and environmental, without doing harm to the Earth. Ozone generators, however, produce ozone which will harm the ozone sphere of the Earth and leads to greenhouse effect.
4. How to get rid of pet dander and dust?
A: There are several tips to help you get rid of pet dander and dust.
Tip 1. Get a HEPA air purifier for your home and apartment. If possible, get air purifiers for every room for the best air purification efficiency.
Tip 2. Choose the right vacuum cleaner to clean your home floors, carpets, curtains regularly to remove dust and pet dander or hair.
Tip 3. Brush your furry friends regularly. Before your dog' or cat's hair goes flying off into the air, collect it by brushing your pets regularly, in order to improve circulation, and keep your home clean.
Tip 4. Bathes your cat or dog regularly. Regular bathing is one of the effective ways to remove dander and hair from your dog's or cat's skin and coat. It is advised to bathe your pet once every 4 to 6 weeks.
If you are allergic to pet hair or dander, hire someone to bathe your pet for you.