Perfect Air Purifiers for Any Room: Created for Your Clean Air Needs
Welcome to the future, where clean air is a precious luxury.
We, yeah, you and me, are exposed to tons of pollutants every second, no matter where we are, outdoors or indoors.
Even worse, the indoor environment contains more allergens and pollutants than the outside environment.
That's why room air purifiers have become the necessity recently. The industrialization development brings unparalleled convenience – but also brings the particulate matter, volatile organic compounds (VOCs), vaporous chemicals, and numerous contaminants.
It is time to go for air purifiers for your room to breathe clean air that you deserve.
Now You Can Breathe Easy:
#1. Should Every Room Have an Air Purifier
#2. Important Rooms to Have Air Purifiers
#3. Tested & Assured Room Air Purifiers
#4. How We Test These Home Air Cleaners
#5. Why You Should Trust Us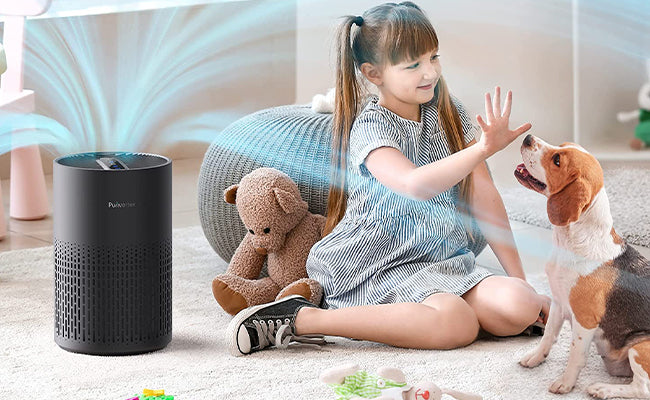 #1. Should Every Room Have an Air Purifier
How many air purifiers do you need?
Do you really need one for every room?
The quick answer is: Yes, putting an air purifier for every room is the best solution to fill every inch at your home with clean air.
It is hard for just a home air purifier to cover multiple rooms as there are walls, obstacles blocking the filtration of the air cleaner.
That's why it is not practical to buy just one air filter to cover multiple rooms – unless you move this home appliance room to room.
#2. Important Rooms to Have Air Purifiers
To mitigate the air pollution and keep those dust mites, pet dander & fur, pollen at bay, place air cleaners in important rooms, both at home or in the workplace, including:
Bedroom
Baby's/toddler's room
Living room
Nursery room
Playroom
Gaming PC room
Pet room
Bird room
Home office
Office room
Server room
Smoking room
Workout room
Try to cover every vital room with an air purifier, ensuring you breathe truly fresh air when you are at home or working in the office.
#3. Best Air Purifiers for Room in 2022 & 2023 – NEWLY Tested & Reviewed
No matter you want the best air filter for your small dorm room, a medium-sized room, or a large room, the below air purifiers can meet your every need.
1. Best Room Air Purifier for Allergies – Purivortex AC400
This single room air purifier is one of the best options in the market for allergy relief.
It has three different HEPA filter types for your choice, which includes the multi-purpose filter (for combatting dust, pollen, dust mites, and other particles), the allergen-target filter for removing all allergens, like pet dander/fur, dust mites, pollen, hay fever, as well as a filter targeted to adsorbing VOCs, odors, smells, etc.
All of the three filters are 3-in-1 H13 true HEPA types (pre-filter, HEPA filter and carbon activated filter) to remove most pollutants and adsorb unwanted smells.
If you want an air purifier for a dusty, stuffy & smelly room, or for home use with pets, just take the Purivortex AC400 home and buy the extra air filter type to tailor your clean air needs.
This versatile HEPA air purifier covers a medium or a big room with its powerful CADR rating (110 m3/h) and provides effective air cleaning in a 880 ft2 room.
The fascinating feature is the light color. You may set the light color of this apartment air purifier to rainbow color, or fixed blue, green or purple. That's really awesome especially when you have a home party or home barbecue.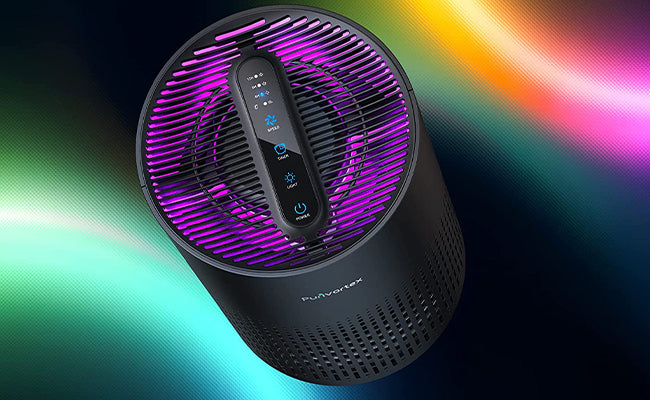 Watch the video below for more marvelous features of this air purifier for dust to cover your 400 sq. ft., 500 sq. ft., 600 sq. ft. and 900 sq. ft. room.
2. Best HEPA Air Purifier for Small Room – Purivortex 201B
This small air purifier covers rooms with up to 215 square feet. So if you want the affordable air cleaner for around 300 sq. ft., 200 sq. ft., 10X10 room, don't miss Purivortex 201B.
Though it is mini and compact, its power air cleaning efficiency overshadows other air purifiers with the same CADR value. The mighty 3-in-1 filter combines the pre-filter, H13 true HEPA filter and the carbon activated filter to remove all airborne particles, pet odors and smoking smells.
Put this portable air purifier in smoking room, hotel room, litter box room, nursery room, bird room, exercise room, children's room or college dorm room, to remove vaping/cigarette smoke, pet odors, dust mites, mold, pollen and other allergens & pollutants.
This quiet air purifier is ideal for dorm room, office or even library since it only produces 20 dB white noise (quiet as whisper). Place it on your table, on the floor without worrying about that its operation noise will disturb you.
Take a look at the video below and see how this best room air purifier for mold, asthma, VOCs, wildfire smoke works in our daily life.
3. Top-Rated HEPA Air Purifier for Large Room – Purivortex V3
If you want an air purifier with washable filter for large room, Purivortex V3 is currently the best and most effective option.
It includes two washable permanent fabric pre-filters to keep large particles and dust at bay. You will see there are dust covering the fabric pre-filter after using it for a week.
If you have pets at home, this large room air purifier helps you catch all pet dander/fur, and adsorb all unbearable smells & odors immediately with the exceptional 3-in-1 filter.
This air purifier with HEPA filter is not just for home use but also ideal for business use. If you have a nail room, a salon, a pet store, or even construction sites, putting the V3 in your business helps keep the air clean and fresh, so your customers won't be bothered by the nail VOCs or pet dander or pet smell.
The air purifier is able to cover a large room with up to 1,074 ft2, which is able to provide clean air for your entire home.
It can help improve the air conversion with the powerful brushless motor designed to put the outside dirty air in and then help convey the clean air to your room. So, this air purifier is also ideal for windowless room for extra large home, such as a 1,000 sq. ft. room, a small or big grow room.
This air purifier with smart sensor can detect the amount of dust in the room and report the current air quality with the LED color and the number on the display panel.
Here is a video providing how the air purifier with air quality monitor performs when it encounters pollen, dust mites, or smells.
#4. How We Test These Home Air Cleaners
When testing the above ozone-free air purifiers, we focus on 3 target points: the CADR, the room size and the filter type.
The CADR value: CADR (clean air delivery rate) is the most important point for an air cleaner. The bigger the CADR, the larger area the air filtration device can cover.
Just select the right air purifier with CADR that meets your room size.
The room size: A large room needs a big air purifier. A small room needs a compact air cleaner. Hence, do go for the device that can cover your room size sufficiently.
For example, if your bedroom is a 10X10 room, just go for a small room air purifier covering around 215 ft2 area. There is no need to choose an air cleaner covering 1,000/2,000 square feet.
The filter type: The core of the air purifier replacement filter is the HEPA filter and the carbon activated filter.
The HEPA filter is used for filtering ultra-fine particles, like dust mites, pollen, pet dander and hair, etc. and the carbon activated filter is designed to adsorb all odors and smells.
#5. Why You Should Trust Us
The whole Purivortex product team has been working in air purifier filed for nearly 20 years, which is capable of assuring the efficiency in air cleaning in terms of the air purifiers.
We test the above air purifiers in our lab and simulate the real-life allergens. We put the air purifier in a sealed space and inject different allergens, such as dust, the pollen, and monitor the air cleaning efficiency.
With the most rigorous testing and numerous adjustments, Purivortex air purifiers are finally created to provide true clean air.